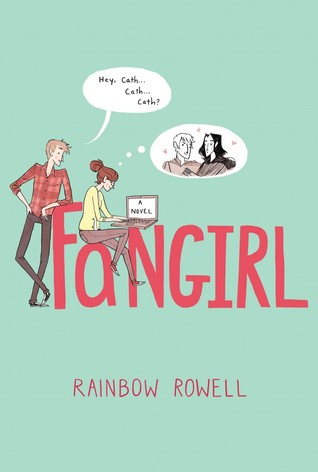 Fangirl

by Rainbow Rowell
Published by Macmillan on September 10th 2013
Genres: Young Adult, Girls & Women
Pages: 448
Goodreads

In Rainbow Rowell's Fangirl, Cath is a Simon Snow fan. Okay, the whole world is a Simon Snow fan, but for Cath, being a fan is her life--and she's really good at it. She and her twin sister, Wren, ensconced themselves in the Simon Snow series when they were just kids; it's what got them through their mother leaving.
Reading. Rereading. Hanging out in Simon Snow forums, writing Simon Snow fan fiction, dressing up like the characters for every movie premiere.
Cath's sister has mostly grown away from fandom, but Cath can't let go. She doesn't want to.Now that they're going to college, Wren has told Cath she doesn't want to be roommates. Cath is on her own, completely outside of her comfort zone. She's got a surly roommate with a charming, always-around boyfriend, a fiction-writing professor who thinks fan fiction is the end of the civilized world, a handsome classmate who only wants to talk about words . . . And she can't stop worrying about her dad, who's loving and fragile and has never really been alone.
For Cath, the question is: Can she do this? Can she make it without Wren holding her hand? Is she ready to start living her own life? And does she even want to move on if it means leaving Simon Snow behind?
A New York Times Book Review Notable Children's Book of 2013 A New York Times Best Seller!
Okay, so that's a tad overdramatic because I didn't "fail miserably". I made it 100 pages in. And I didn't hate it. That's gotta count for something, right?
But let me preface this review by just coming out and saying it:
I don't like contemporary.
It's just not my thing. I am a fantasy/sci-fi/action/magic junkie. The only books that take place in our world that I don't mind reading are historical fiction (gotta love all that conniving) and urban fantasy (because magic). 
BUT, I decided to give it a try because they all say you can't say you don't like something till you try it liars. Also, yay for getting out of my comfort zone (10 points to Hufflepuff/Gryffindor depending on the quiz/how I feel that day). And what better way to dip my toe into the contemporary genre than with Fangirl? Cath is one of us!
And I must say I'm honestly glad that this was the book I decided read for my first foray into the genre. It was perfectly pleasant. It really was. And I had utterly no desire to continue it. 
A lot of people love Fangirl because they could relate to Cath (aren't we all fangirls/guys here?). And that's what I liked about her! Okay, I may be more socially competent that her I think but I'm also introverted and am not a huge fan of crazy frat parties. I'd much rather hang with a few good friends over games and drinks than get plastered at a party. So, I relate. But relating isn't enough for me to love a book.
Cath is a girl I could get along with in real life. We could actually be pretty good friends talking about books and all things geeky over protein bars. But that doesn't mean I want to read about her story.
Why? Because go talk to any college geeky girl and you'll have heard this story. Heck, talk to any college girl and I'm sure she could relate in some way or tell us a story almost exactly like Caths (guys too). Most of us have been awkward at some point or homesick or obsessed with something/someone. This is a story I'd love to be told about while hanging out with friends, reminiscing about good ol' college days, but not to read about. I read to escape reality, to experience conflict and strife that is both found in everyday situations in which I can relate but is also beyond oneself (like saving the world). Why read about reality when I live it?
In this this book there was just…..nothing to keep me going. No mystery, no magic, no conflict, no cake dangling in front of my face making me want to continue reading. Honestly, the more interesting parts were the little parts about Simon and Baz from the fantasy books she wrote fanfic for (I, Mackenzie, am a fantasy addict.). Now, if Rowell wrote a book about that, I'd read it (even if it's so obviously HP).
But that's just me.
That's why I didn't finish reading it. But that doesn't mean it wasn't good. As I said, Cath is awkwardly adorkable and it's hard not to love her. And Reagan. She is awesomely bad-tempered. And scowls. A lot. Love her. And Levi. He's sweet and perpetually happy. I wasn't feeling feelings for him, but he's like the best friend that's hard not to love. And, if contemporary is something you enjoy, then you'll love this because Cath is us.
But, like I said: this is just the story in the everyday life of a geeky/obssessed college girl. That's not what I want to read about when I already live it. This book just confirmed the fact that contemporary isn't for me. Am I glad I tried? Yes. Will I try again? NO!