HELLO AGAIN! *waves*
Welcome to day 2 of HP week (Day 1 here)- a week inspired by all things Harry Potter (in case it wasn't obvious enough). If you want to see my original post, click here. I can't take all the credit for this idea and inspiration came from the many people I saw posting throughout the month of July in preparation for the release of The Cursed Child, most notably a whole MONTH of HP awesomness hosted by Aentee at Read at Midnight.
So, what is day 2 about you ask?
SHIIIIIIIIIPPPPPPPPPPPSSSSS!
And some sinking…..
Now, I fully admit that it has been a LONG time since I've read the books and I am somewhat influenced by the movies because of this (I've seen them many MANY times), but I still remember
I ship……
Harry Potter and Ginny Weasley
Let me put this out there – I do NOT ship movie Harry Potter and Ginny Weasley. That was the MOST cringe-worthy, awkward relationship in the history of ever. Unfortunately, it's been a LONG time since I've read the books and….*whispers quietly* I don't remember all that much that isn't influenced by the movie….but I still remember loving them, OKAY?!?
So, despite that horrendous portrayal, I totally ship book Ginny and Harry.
Ginny is a fierce, independent, sassy, good with jinxes young woman WHO DON'T NEED NO MAN! And she needs a man who realizes that and respects it and thinks that is AWESOME. Cue Harry. See, with Harry being the "chosen one" and all, it was difficult for him to find someone who saw past that title and actually liked Harry for Harry. Sure, when Ginny was younger she was totally awkwardly, adorably infatuated with Harry because of him being the famous Harry Potter, but, because he became a part of the family, as Ginny got older, she looked past the "chosen one" aspect and she actually got to know him and love him for who he is. This meants she had absolutely no problem putting him in his place, And, quite frankly, that was exactly what he needed.
Additionally, they grew up together, shared family together, and shared life-altering experiences together. Their relationship was slow-burn and believable. They each grew as individuals FIRST and as a couple SECOND. Also, did I mention how PERFECTLY SASSY THESE TWO ARE TOGETHER?!?
I SHIP THIS SHIP SO HARD!
I ship….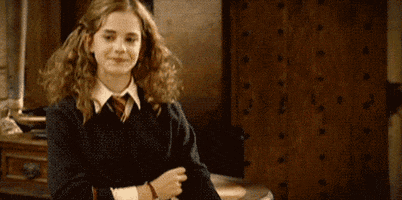 Hermione Granger and George Weasley
I know, I know. All you Ron/Hermione shippers out there are totally hating on me. But, let me explain. It's not that I hate Ron and Hermione together, but I'm also not really feeling it. Quite frankly, I wanted the trio's relationship to be purely platonic. However, I still wanted her to be a part of the Weasley family BECAUSE THEN THE WHOLE TRIO IS AND HOW ADORABLE IS THAT?!?!
Honestly, I think either twin would've been perfect for Hermione but since…the unfortunate incident that I blissfully ignore (WHY DID YOU TAKE FRED. WHY?!?!), George is the guy. Personally, I always found their interactions kind of adorable, but mainly it's because George would make Hermione laugh. While I absolutely ADORE Hermione, she's a bit…uptight, and I think George would really bring some ease and laughter to her life. On the other hand, I think Hermione would help bring some order and comfort to George. Aka – they are PERFECTION!
I HAVE ALWAYS SHIPPED THIS SHIP AND WILL SHIP IT ALWAYS!
But, if I had to ship any of the trio it would be
Hermione Granger and Harry Potter
Again, give me a chance to explain. I just feel like, if any of the trio was meant to get together, it would be Harry and Hermione. Even Queen Rowling herself said that so HA! But really, I just felt like they had more…chemistry. They just worked. But, as I said, my ideal would have been to have the trio's relationship be purely platonic and full of awesome friendship/family.
I ship….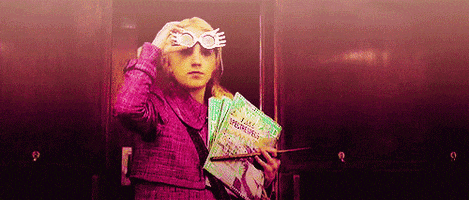 Neville and Luna
I WILL FOREVER AND ALWAYS SHIP THIS SHIP! OMOAIJFOWEFKSLDFIJWOEFJ I LOOOOVVVVEEE THESE TWO!!! THEY ARE PRECIOUS DARLINGS WHO ARE AWKARDLY ADORABLE AND OWN IT.
Whew, okay I'll calm down now. But seriously – I think if there was any couple I would ship to the ends of the earth, it would be these two.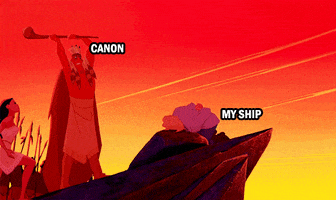 I ship….
McGonagall and Dumbledore
DON'T TELL ME YOU'VE NEVER THOUGHT THIS!
Alright, you have now seen some of my shippiest ships. So…do you agree? Are you completely judging me right now? YOU KNOW NEVILLE AND LUNA ARE PERFECT TOGETHER! #DENIAL